Hey Dark Warriors!

Frosty, Club Penguin Online DWNC – CPO Admin has recently made a post on Club Penguin Online's Discord about the Festival of Snow, which means you can draw your own snow sculpture, and you might be the lucky person to have your drawing during the Festival of Snow Party! Click read more.
It all started back in 2007, when (original)Club Penguin has an idea to create snow sculptures by using the Air Conditioner 3000. It was invented in January 2007 for use in the Lodge Attic when the snow was stored from the Christmas Party of 2006.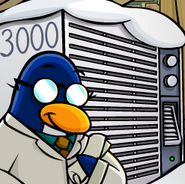 The Club Penguin team decided to name this Festival of Snow, where penguins can submit their drawing of snow sculpture for the Festival of Snow! They also reappeared in the original Club Penguin again back in 2015.
Here is what Kiwii the CPO Admin, has said on the CPO Discord.
@everyone

For this month's party we will need your participation! Members must submit drawings of snow sculptures in

#snow-sculptures

. The best snow sculptures will be chosen by our designers and included in this month's party which will be the Festival of Snow! The deadline for submitting is this Monday

(January 20th, 2020 at 11:59pm EST).

After this time the channel will close. Here is an example:

http://prntscr.com/qnr7sp P.S. This party has nothing to do with Card Jitsu Snow. We will add CJS later this year.

Best of luck to everyone who submits their sculptures!
Wow, im very excited to see this party!! It brings so much memories! What about you? Are you gonna submit your drawing for the festival of snow?
Until next time,
~Kyle103 &๖̶̶̶§pi101 was here~
Filed under: club penguin dark warriors, Club Penguin News, cp dark warriors, CP Dark Warriors, Dark Warriors Club Penguin, dark warriors cp, dark warriors cpo, Dark Warriors News Central |